I have a new favorite book.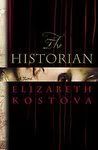 I just FINALLY finished reading the book
The Historian
by Elizabeth Kostova, and it was AMAZING. This book is basically about the Dracula legend, but it explores it from a historical point of view, so it really combines the mythology with the fact better than I've ever seen done before.

dracschick
: If you haven't read this book yet, you need to. Now. You will LOVE it.